Books for young children and parent/carers
Always and Forever
Always and Forever by Alan Durant (goodreads.com) and Amazon
When Fox dies, Mole, Hare, and Otter are devastated. They feel they will never get over their great sadness. How can life go on without him? Then one day Squirrel comes to visit. She reminds Fox's family of all the funny things he used to do. And as the friends share dinner and tell stories, they realize at last that in their hearts and memories, Fox is still with them, and he will be–always and forever.
Still here with me
Still Here With Me : Suzanne Sjöqvist : 9781843105015 : Blackwell's (blackwells.co.uk)
This book is a moving and thoughtful anthology of the experiences of thirty-one children and teenagers who have lost a parent.  In their own words, children and young people of a variety of ages talk openly and honestly about losing their mother or father. They describe feelings of pain, loss and anger, the struggle to cope with the embarrassed reactions and silence of others, and the difficulties involved in rebuilding their lives. They also share happy and loving memories of their parents and talk about the importance of remembering while learning to accept their parent's death.
I miss my sister
I Miss My Sister book | Child Bereavement UK
A story book for children ages 4-10 with expressive and colourful illustrations to help guide children through the range of emotions they may experience over time, following the death of a sibling.
Someone I know has died
Someone I Know Has Died by Phillips, Trish (9780952166139) | BrownsBfS
This is an innovative activity book with many unusual and interactive features, written for bereaved children to help them understand what it means when someone dies and to explore their thoughts and feelings with an adult. Although designed with pre-school and early years age groups in minds, some older children may also enjoy this book.
Remembering
Remembering book | Child Bereavement UK
A memory/keepsake book for bereaved children for when someone special in their life has died, illustrated with watercolours by Daniel Postgate and written by Dianne Leutner. "Remembering" is a beautiful memory/keepsake book for children when someone special in their life has died.
Farewell, my child
Farewell, My Child: Amazon.co.uk: Chalmers, Ann: 9780952166177: Books
The relationship between parent and child is unique. The death of a baby or a child at whatever age leaves parents searching for meaning and wondering how they will ever live life again in the face of such pain and anguish, and families have often wanted to know how others have survived such a tragedy. Farewell My Child is a collection of stories about child bereavement written by bereaved families and has been produced by The Child Bereavement Charity, a charity which bases everything it does on learning from families.
Talking about death
Talking about Death: A Dialogue Between Parent and Child: Amazon.co.uk: Earl A. Grollman: 9780807023617: Books
Talking about Death is a classic guide for parents helping their children through the death of a loved one. With a helpful list of dos and don'ts, an illustrated read-along dialogue, and a guide to explaining death, Grollman provides sensitive and timely advice for families coping with loss. This redesigned and updated edition explains what children at different developmental stages can and can't understand about death; reveals why it's crucial to be honest about death; helps you understand the way children express emotions like denial, grief, crying, anger, and guilt; and discusses children's reactions to different kinds of death, from the death of a parent to the death of a pet.
Grief in children
Grief in Young Children: A Handbook for Adults : Atle Dyregrov: Amazon.co.uk: Books
Grief in Young Children challenges this assumption, demonstrating that although young children may not express grief in the same way as older children, they still need to be supported through loss. Illustrated throughout with case examples, the author explores young children's reactions to death and loss, both immediately after the event and over time. For example, young children may engage in 'magic thinking', believing that wishing that someone were dead can actually cause death, which leads to feelings of guilt. Full of practical advice on issues such as how to keep children in touch with their memories, answer their questions, allay their fears and explore their feelings through play, this accessible book enables adults to work with children to develop an acceptance of grief and an understanding of death and loss.
Hope beyond the headlines:  supporting a child bereaved through murder or manslaughter
Hope Beyond the Headlines – Supporting a child bereaved by homicide – Winston's Wish (winstonswish.org)
This specialist book offers practical advice for families in the immediate days, weeks and months following a murder. It is written for both parents and professionals, giving them the confidence to involve children and young people in understanding and managing the particular difficulties and complexities that so often surround a death by murder or manslaughter. The booklet includes child-friendly activities to do with children or as a family to help them to make sense of what has happened and to begin to express their grief.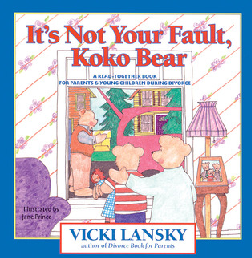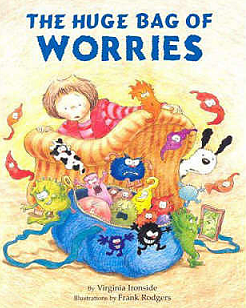 It's not your fault, koko bear: a read-together book for parents and young children during divorce
It's Not Your Fault, Koko Bear: A Read-Together Book for Parents and Young Children During Divorce (Lansky, Vicki) : Lansky, Vicki, Prince, Jane, Prince, Jane, Prince, Jan: Amazon.co.uk: Books
This easy-to-understand children's story and parenting guide is intended for families where both parents plan to stay active and involved in their child's life. "It's Not Your Fault, KoKo Bear" revolves around a lovable bear who doesn't want to have two homes. KoKo's experience will help children learn what divorce means, how family life will change, and understand that the divorce is not their fault.  Age range 3-7 years.
The huge bag of worries
The Huge Bag of Worries: Amazon.co.uk: Ironside, Virginia, Rodgers, Frank: 9780340903179: Books
Wherever Jenny goes, her worries follow her – in a big blue bag. They are with her all the time – at school, at home, when she is watching TV and even in the bathroom! Jenny decides they have to go, but who will help her get rid of them?  A funny and reassuring look at dealing with worries and anxiety, to be used as a springboard into important conversations with your child.